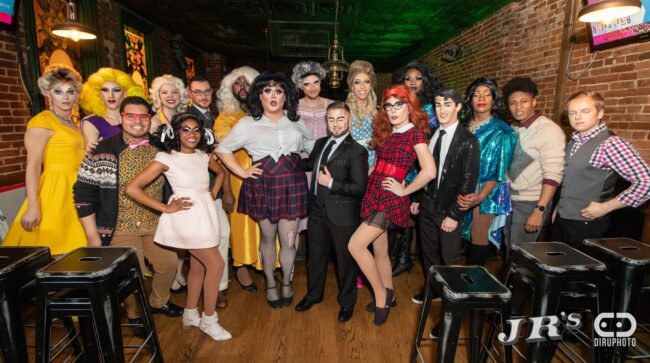 Hey there, if you are looking for info on the best gay and lesbian bars or clubs in Washington DC we have you fully covered. This local LGBT nightlife guide will also dive deep into subjects like mixed clubs, trans bars, drag shows, the main queer area near you and more!

There are quite a few annual or more frequent Washington DC gay pride events that we will also tell you about. And we can't forget about the best LGBT dating sites since that is the preferred way to meet new people for many these days.
Not everyone likes to do things the same way and we know the gay and lesbian bars in your area are not the only option. We will just list everything we can think of and then you can do with the info what you will. You can read about all the gay bars in Baltimore there.
Best LGBT Bars & Clubs In Washington DC
Let's start this off with a list of the best gay, lesbian, and mixed LGBT bars and nightclubs in Washington DC:
Best Gay Bars & Clubs
If you are trying to find out about gay bars and clubs in Washington DC for men to meet men you can go off that main list we just posted. This country used to be far less inclusive, but these days most venues have become more LGBT friendly instead of being strictly local gay bars.
Best Lesbian Bars & Clubs in Washington DC
Along those same lines we are not aware of any straight up lesbian bars in Washington DC for women to meet women. The mixed list should have plenty of options for you and if there are no cute girls around to hit on head out and find another place to try.
With that said A League Of Her Own would not be a bad place to start your night.
Drag Shows & Trans Bars
We aren't really to the point of having full on trans bars in Washington DC, but you can find drag shows that may help you locate ts near you at:
Drag Bingo at Nellie's Sports Bar on Tuesdays
Drag Brunch at Nellie's Sports Bar on weekends
Drag Shows at Green Lantern
Drag Shows at JR's Bar
Drag Shows & Brunch at Kiki
Drag Events at Shaw's Tavern on Sundays
Please use the comments to let us know if anything you notice on this page is no longer relevant or if any new LGBT hot spots in your area have opened up since our last visit. We also want to say that we know how things are here pretty good but we are not local experts that is for sure.
If you think we should be listing any venues as strictly lesbian or gay bars definitely let us know. We have tried our best, but we can't know up to the minute info on every city around the globe.
Many of these gay or lesbian bars and clubs can be found in the LGBT nightlife area of U Street and Dupont Circle area. Those gayborhoods should offer you just about everything you need. We have written other posts on queer nightlife in:
Weekly, Monthly, & Pride Events
Here are some of the best LGBT events that occur on a weekly or monthly basis:
Squeeze at 18th & U Duplex Diner on Thursdays
Djs at Black Whiskey on Fridays & Saturdays at 10 pm
DC Rawhides Country Western Dancing at Secrets on Every Other Saturday
Kick Off Dance Party at Nellie's Sports Bar on Fridays
Rewind at Green Lantern Every first Saturday
GLŌ Underwear Dance Party at Green Lantern Every 2nd Friday
Open Mic at A League Of Her Own on Thursdays
And these are the best pride events plus other LGBT events throughout the year:
Best LGBT Dating Sites
Let's face it, going out to a local LGBT bar or club isn't for everyone. Sure, there will be some drunk people around you might be able to hook up with, but you have to deal with being around a bunch of drunk strangers which can be fun, but isn't always.
The first sites we want to get into are part of the huge Adult Friend Finder network. We bet most of you have seen the AFF links online before since they have helped millions of people hook up in their nearly twenty years in the game.
Their best site to use to find gay men near you to hook up with is Men Nation and you might be pleasantly surprised at just how many users it has. The ladies will have more success on Lesbian Personals, the name pretty much says all you need to know about it.
Those who are bi-sexual and enjoy hooking up with all varieties can use Adult Friend Finder where you can find all the users in their huge network. For fast m4m hook ups nothing is going to get the job done quicker than Men Nation.
For f4f hook ups Lesbian Personals is going to be your top option. The world's top transgender dating site MyTransgenderDate may also be of interest to some.
Trans dating in Washington DC has never been as easy as it is right now because more ts near you feel confident enough to be the person they really want to be. At this point we have covered the LGBT nightlife in your area in full.
We covered the best mixed, gay, or lesbian bars and clubs in Washington DC plus drag shows to party with trans and all sorts of LGBT dating sites in full detail. Now choose the best option for you and enjoy yourself.