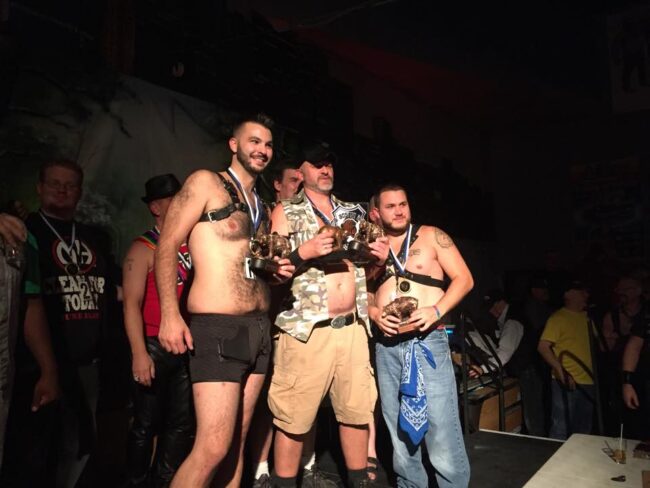 Those who want to learn more about the best gay and lesbian bars or clubs in Boston can definitely do so right here. This local LGBT nightlife guide is updated often and will also cover other topics like mixed clubs, trans bars, drag shows, the main queer area near you and more!

There are plenty of annual or more regular Boston gay pride events that we will also get into. And since most people are glued to their devices twenty four seven it would be quite silly for us to leave out the best LGBT dating sites.
Some people like to party, others don't really want to hang out in lesbian or gay bars in your area all night and because of that we will attempt to give you as many options as possible and then you can choose which way you wish to proceed. Some of you may enjoy traveling and if so read more of our guides for the US here.
Best Boston LGBT Bars & Clubs
The best Boston gay, lesbian, or mixed LGBT bars and nightclubs would be:
Gay Bars & Clubs Near You
Back in the day gay bars in Boston were only full of men looking for men to hook up with. That has changed and now more spots are more mixed LGBT style, and some are even mixed straight and gay in your area.
Best Lesbian Bars & Clubs in Boston
While these two are not only for lesbians in Boston you may want to start your search at:
Diesel Cafe at 257 Elm St
Midway Cafe at 3496 Washington St
And most of the venues on the mixed list should also work well.
Local Drag Shows & Trans Bars
We aren't really to the point of having trans bars in Boston quite yet but you can find drag shows that may help you locate ts near you at:
We know the scene here pretty well, but not as well as the local experts. Our goal is to keep our lists as relevant and current as possible but we need your help to do so.
If anything on here is old news or if we left some place off that is a can't miss please use the comments to let us know. Also, if you think any venues should be listed as solely places for men to meet men or women to meet women fill us in, thanks if you can give us an assist.
Many of these local gay or lesbian bars and clubs can be found in the LGBT nightlife areas of Savin Hill, Jamaica Plain and The South End. Go do your partying in those gayborhoods and you will be able to check out the various venues and find out the right spots for your personal tastes.
You may also want to read more of our posts on:
Weekly, Monthly & Pride Events
Here are some of the best LGBT events that occur on a regular basis:
No Filter on Friday at Jacque's Cabaret
Magnum Saturdays on Saturday at Dbar
Dirty Water Saloon Line Dancing for Queer Folks and Allies on Tuesdays at Milky Way Lounge
Latino Wednesdays on Wednesdays at Cure Lounge
Queeraoke at 3496 Washington St
We may not even need to mention this one but the Boston Pride Parade is held every June, and there are also usually some big queer events around Memorial Day here.
Best LGBT Dating Sites For Your Area
As many of us become more introverted going out to party at an LGBT bar or club may not sound so appealing. Fortunately technology has opened up some new doors for us and now we don't have to go to a bar if we don't feel like it.
Plus not everyone is fully 'out' at the moment and may not necessarily want to be spotted and get posted about on social media. The first sites we want to mention are mainly geared towards casual sex, they probably shouldn't be called dating sites. As the divorce rates keep climbing lots of people are enjoying the single life and aren't looking for any commitment at the moment.
Adult Friend Finder is the biggest hook up site on the planet and has been for damn near twenty years. Their top site for finding gay men near you to hook up with is Men Nation and you might be surprised at how many users it has in major cities like this one.
Lesbian Personals is their site to find hot lesbian women in your area to hook up with. Those who are bi-sexual and like all varieties should just go with Adult Friend Finder where you can find all the colors of the rainbow.
It combines all of the users on all of their various sites which are not only straight and LGBT but also include swingers and numerous types of kinks and fetishes. So if you want quick local m4m hook ups use Men Nation, and for f4f hook ups use Lesbian Personals.
MyTransgenderDate is the world's top transgender dating site which some of you probably already know. Trans dating in Boston has never been more possible than it is right now because more ts near you are finally comfortable living the life they want to live.
Alright then, we have told you all about the LGBT nightlife in your area to the best of our abilities. You know where to go to find the best Boston gay or lesbian bars and clubs along with mixed venues plus drag shows to party with trans and all sorts of LGBT dating sites to choose from. We hope you make the most of the information at hand.