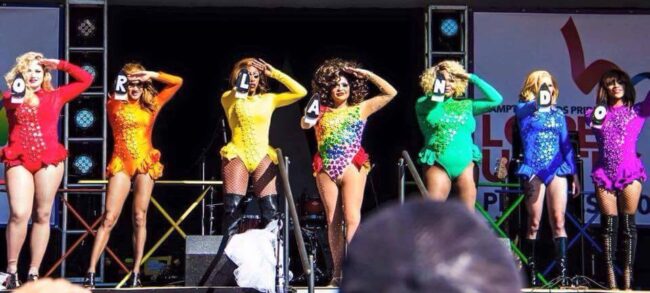 If you are trying to locate the best gay and lesbian bars or clubs in Virginia Beach you will find the info you desire on this page. Our local LGBT nightlife guide will also cover things like mixed clubs, trans bars, drag shows, the main queer area near you for partying and more!

On top of that the best LGBT dating sites will get a quick shout out, particularly some sites for those who are more interested in hooking up than getting too deep into a serious relationship at the moment. Plus we will mention all of the best Virginia Beach gay pride events and meet ups we know about here as well as in Richmond, Norfolk, Hampton and the surrounding area.
Some people like to party, others don't really want to hang out in lesbian or gay bars in your area all night so we plan to give you as many options as possible and then you can choose which way you wish to proceed. Be sure to read through more of our posts on the East Coast when trying to find your next vacation spot.
Best LGBT Bars & Clubs In Virginia Beach
The best Virginia Beach gay, lesbian, or mixed LGBT bars and nightclubs would be:
Unfortunately we heard Phoebus Turtle closed down recently which was a big hit to the LGBT nightlife in Hampton.
Best Gay Bars & Clubs
Those of you that want to find gay bars and clubs in Virginia Beach for men to meet men can use that list above. We used to live in a world where things were more segregated, but these days most venues have become more LGBT friendly instead of strictly gay bars.
The local gay bars we just listed will offer plenty of opportunities for men to meet men.
Best Lesbian Bars & Clubs in Virginia Beach
Along that same vein we are not aware of specifically lesbian bars in your area for women to meet women. Go party at the spots in the mixed list and if there are no cute girls around to hit on head out and find another place to try.
Drag Shows & Trans Bars
Finding trans bars in Virginia Beach isn't easy, but you can watch drag shows that may help you locate ts near you at the Dragtastic Fun events at Rainbow Cactus Company. Some of the other bars and clubs we listed earlier may also have special drag events from time to time, particularly MJ's Tavern.
Look guys, we cover way too many cities on this site to be perfect. We know the scene pretty well, but not as well as the people who live it every week.
It would be great if you could let us know about any errors we made or if anything is out of date on this page in the comments section at the end of this page. Also, if you think any venues should be listed as solely places for men to meet men or women to meet women in your area fill us in, thanks a lot.
Be sure to look through some of our other posts on the gay scene in:
Weekly, Monthly, & Pride Events
Here are some of the best LGBT events that occur on a weekly or monthly basis:
New Queens on the Block at Rainbow Cactus Company on Wednesdays
Yaymaker at Rainbow Cactus Company on Thursdays
Wet n Wild at Rainbow Cactus Company on Sundays
The annual Hampton Roads Pride event in June is a can't miss.
Best LGBT Dating Sites
It used to be that local gay bars were pretty much the only places to try and find other LGBT people near you for dating or hook ups. Luckily that has changed, and now we want to tell you about one of our favorite options.
Plus not everyone is fully 'out' at the moment and may not necessarily want to be spotted and get posted about on social media. Whatever your reasons or motivations are LGBT dating sites are a great way to meet people without having to get all dressed up and head to a gay or lesbian bar to do so.
The first sites we want to mention are mainly geared towards casual sex, they aren't exactly dating sites. As the divorce rates keep climbing lots of people are enjoying the single life and aren't looking for any commitment at the moment.
Men Nation is a really good gay dating site for hook ups, and if you want to hook up with gay guys in Virginia Beach you should definitely check it out. Lesbian Personals is a really cool lesbian hook up site, and they are both run by Adult Friend Finder.
You have probably seen AFF ads online in the past since they have been helping people like us hook up for almost two decades. Men looking for other gay men near you to hook up with can use Men Nation to get the job done quickly. Not only will it work by the beach, but it will also work for Norfolk, Richmond, Hampton and all around the Eastern Seaboard.
Women who want to meet lesbian women would be best off using Lesbian Personals, and those who are bi-sexual and like all types can check out Adult Friend Finder which covers every damn body. Serious relationships aren't for everyone and these sites are a great way to hook up for when you don't feel like going out to an LGBT club.
We also should tell you about the world's top transgender dating site, MyTransgenderDate. Trans dating in Virginia Beach is growing rapidly because more ts near you are finally able to be the person they always have wanted to be.
Alright then, we have told you all about the LGBT nightlife in your area as best as we can. You know where to go to find mixed, gay, or lesbian bars and clubs in Virginia Beach plus drag shows to party with trans and all sorts of LGBT dating sites. We hope you make the most of the information at hand.