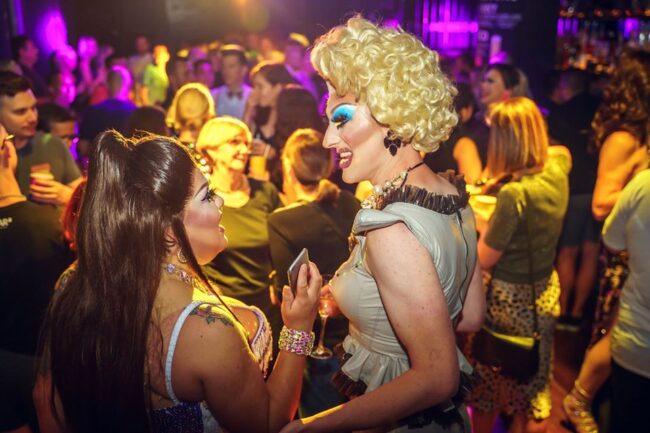 Welcome to our site everyone! If you are trying to find info on the best gay and lesbian bars or clubs in Sydney you will do so right here. Our local LGBT nightlife guide will also discuss topics like mixed clubs, trans bars, drag shows, the main gayborhood in town and more!

There are so many annual and more frequent Sydney gay pride events that we will be getting into. And being that this is the 21st century it would be weird if we didn't mention the best LGBT dating sites for your area of Australia which get more popular by the day.
We don't all like to do things the same way and we know gay and lesbian bars near you are not for everyone. Because of that we will tell you about everything we can think of and then you can proceed in whichever way sounds right for you.
Best LGBT Bars & Clubs In Sydney
Let's start this off with a list of the best gay, lesbian, and mixed LGBT bars and nightclubs in Sydney:
Poof Doof is a really fun LGBT party that was taking place at The Ivy but they recently announced they are moving to Arq on Saturday nights. If you want to read about the best gay, lesbian, and ts date night ideas for your area check out that link.
Best Gay Bars & Clubs
Those of you that are here to learn more about gay bars and clubs in Sydney for men to meet men you can go off that main list we just posted. Back in the day lots of local gay bars in Australia weren't all that inclusive, but currently most venues are pretty mixed and not only places for men to meet men.
Best Lesbian Bars & Clubs in Sydney
Along those same lines we are not aware of any straight up lesbian bars in Sydney for women to meet women. You can go to the venues on the list we just posted, or you may need to head out to other nightclubs around town even if they are not known to be LGBT hot spots in your area.
Drag Shows & Trans Bars
We still don't exactly have trans bars in Sydney but you can find drag shows that may help you locate ts near you at:
Exotic at Arq on Saturdays
Drag For Dollars at Arq on Thursdays
Purple Shade at The Colombian Hotel on Fridays
Polly's Follies at Stonewall Hotel on Sundays
Sirens of Gotham at Stonewall Hotel on Fridays
Drag N' Dine at The Imperial Erskineville
Sideshow Alley at Universal Sydney on Saturdays
While we do know the gay scene in Australia pretty well we cover way too many cities to have a more intimate knowledge on all of them than the people who live in them. Our goal is to keep our lists as fresh and current as possible but that is easier than it sounds.
Using the comments section to let us know if you notice anything dated would not only help us out it would help out all of our readers. Many of these local gay or lesbian bars and clubs can be found in the LGBT area of Darlinghurst, and particularly along Oxford Street.
Darlinghurst isn't a full on gayborhood per se, but there are definitely lots of places for you to have a good time around there. You may also want to read our other posts on:
Weekly, Monthly, & Pride Events
Here are some of the best LGBT events that occur on a weekly or monthly basis:
Black Magic at The Colombian Hotel on the first Friday of the month
Caged at The Colombian Hotel on Saturday Nights
Travesty Supremo at The Colombian Hotel on Friday Nights
Fairytale Fridays at Arq Sydney
Malebox at Stonewall Hotel on Wednesdays
Boys Bar up at Stonewall Hotel on Thursdays
Breko's Trivia at The Imperial Erskineville on Mondays
Beresford Sundays at The Beresford Hotel
As we said before there are tons of regular events here, though the Green Park Hotel closing over the pandemic did remove quite a few from that list. You also have all of these pride events plus other LGBT events throughout the year like:
Best LGBT Dating Sites
As many of us become more introverted going out to party at a local LGBT bar or club may not be our preferred way to meet new people. Thankfully tech has opened up some new doors for us and now we have more options at are disposal than those in the past ever did.
We also do not know whether you are 'out' or not and some of you may not feel comfortable in a crowded bar at the moment. Whatever your reasons or motivations are LGBT dating sites are a great way to meet people without having to get all dressed up and head to a gay or lesbian bar.
We want to start off by telling you about a couple of sites that are part of the huge Adult Friend Finder network. We bet most of you have seen the AFF links online before since they have helped millions of people hook up this century.
Their best site to use to find gay men near you to hook up with is Men Nation and you might be pleasantly surprised at how many people are on it. The ladies will have more success on Lesbian Personals, the name pretty much says all you need to know about it.
Those who are bi-sexual and enjoy hooking up with all the colors of the rainbow can use Adult Friend Finder where you can contact all the people on their vast network. For fast m4m hook ups nothing out there is going to work better than Men Nation.
For f4f hook ups Lesbian Personals is going to be your top option. The last site we want to tell you about is the biggest transgender dating site in the world, MyTransgenderDate. Trans dating in Sydney is more popular than ever, just as it is all across Australia, and will only continue to grow as more ts near you feel confident enough to be the person they really want to be.
At this point we have covered the Sydney LGBT nightlife in full. You know all about the best mixed, gay, or lesbian bars and clubs in your area plus drag shows to party with trans and all sorts of LGBT dating sites in Australia. Now choose the best option for you and enjoy yourself.