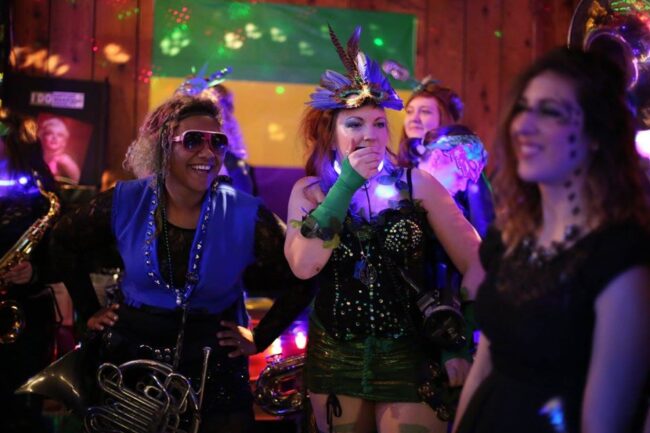 Those who want to learn more about the best gay and lesbian bars or clubs in Seattle can find all the info they need right here. This local LGBT nightlife guide will also cover things like mixed clubs, trans bars, drag shows, the main queer area of town Capitol Hill and more!

There are numerous annual and more frequent pride events that we will also be diving into. And since most people stare at their devices all day it would be quite silly for us to leave out the best LGBT dating sites.
Not everyone likes to do things the same way so we are trying to cover all the bases so that you can go with the one that sounds best for your needs and desires. Fortunately lesbian and gay bars are no longer your only option.
You may also want to read about all of the cities we have covered in the Western US at that link.
Best LGBT Bars & Clubs In Seattle
Let's start this off with a list of the best mixed LGBT bars and nightclubs in Seattle:
Best Gay Bars & Clubs
We know that lots of you reading this are here to find out about gay bars in Seattle for men to meet men. Since the turn of the century we have done a great job of making this country a more inclusive place. These days most gay bars in your area are actually mixed, and gay hook ups should be possible at just about all of the above spots.
Best Lesbian Bars & Clubs in Seattle
The same can be said for lesbian bars in Seattle, but women who want to meet women should start their search at Wildrose. Lumber Yard also has a ladies karaoke night on Tuesdays.
Drag Shows & Trans Bars
There are not really trans bars in Seattle but you can find drag shows that may help you locate ts near you at:
RPDR Season 11 at Queer on Thursdays
Vibes Drag Show at Neighbours on Thursdays
Drag Show at Baja Bistro on Wednesdays
Drag Shows at Le Faux Playhouse
Drag Race at CC Attle's
Drag Race at The Queer Bar
Drag Bingo on Tuesday & Drag Brunch on Sunday at Unicorn
We know the scene well but we cover tons of cities so the local experts know it better. Our goal is to keep our lists as up to date as possible but we need your help to do so.
If anything on here is old news or if we left some place off that is a can't miss please use the comments to let us know. Also, if you think any venues should be listed as solely places for men to meet men or women to meet women fill us in, thanks if you can help.
Many of these local gay or lesbian bars and clubs can be found in the LGBT nightlife area of Capitol Hill. Go out in that gayborhood and you will be able to check out the various venues and find out the right spots for your personal tastes.
You can read more of our posts on the LGBT scene in:
Weekly, Monthly, & Pride Events
Here are some of the best LGBT events that occur on a regular basis:
Karaoke at Wildrose every Wednesday at 9pm
Mx. Queer Variety Show at Queer every Fridays
Laughs Queer Comedians at Lumber Yard on third Wednesdays
Ladies Karaoke Night at Lumber Yard on Tuesdays
Underwear Night at Lumber Yard every third Friday
And these are the best LGBT pride events held every June:
PrideFest at Capitol Hill in June
Capitol Hill Clean Sweep Pride Kickoff in June
Pride Underwear Party at Kremwerk in June
Best LGBT Dating Sites
We know that going out to an LGBT bar or club in your area is not everyone's idea of a good time. Partying isn't for everyone, and these days many of us have become more and more introverted which is totally understandable.
Plus not everyone is fully 'out' at the moment and may not necessarily want to be seen and have their photos end up on the gram.
Adult Friend Finder is the biggest hook up site in the world and has been for damn near twenty years. They have multiple sites in their network and the best one to use to find gay men near you to hook up with is Men Nation and you might be surprised at how many users it has in huge American cities like this one.
Lesbian Personals is their site to find hot women near you to hook up with. Those who are bi-sexual and like all varieties should just go with Adult Friend Finder.
It combines all of the users on their numerous sites which are not only straight and LGBT but also include swingers and numerous types of kinks and fetishes. So if you want local m4m hook ups use Men Nation, and for f4f hook ups use Lesbian Personals to find them quickly.
The last site we want to discuss is the world's top transgender dating site, MyTransgenderDate. Trans dating in Seattle has never been as easy as it is right now because more ts near you are finally comfortable living the life they want to live.
We have told you all about the Seattle LGBT nightlife as best we can. You read all about where you can go to find mixed, gay, or lesbian bars and clubs in your area plus drag shows to party with trans and all sorts of LGBT dating sites. We hope you make the most of the information at hand.