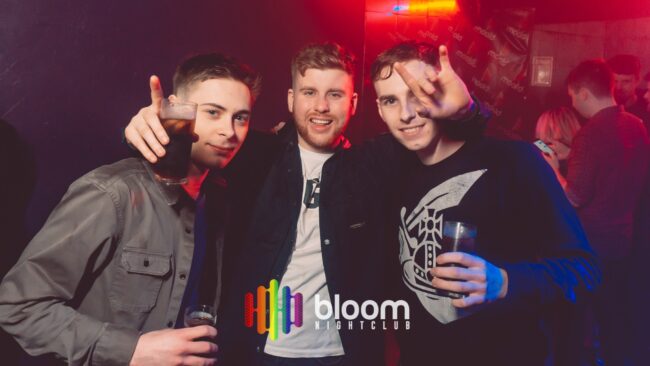 Those who want to locate the best gay and lesbian bars or clubs in Manchester will learn about all they need to know on this page. Our local LGBT nightlife guide will also cover things like mixed clubs, trans bars, drag shows, the main queer area of town the Gay Village and more!

There are some cool annual or more frequent Manchester gay pride events that we also need to discuss. And in this modern tech era it would be a big mistake to not mention the best LGBT dating sites to use in your area.
Not all of you will be interested in going out to a lesbian or gay bar near you to try and meet people so we will try to cover all the bases so that you can pick out which option you prefer. You may also be interested in reading more of our guides for Europe.
Best LGBT Bars & Clubs In Manchester
Let's start this off with a list of the best gay, lesbian, and mixed LGBT bars and nightclubs in Manchester:
Best Gay Bars & Clubs
If you are looking for gay bars and clubs in Manchester for men to meet men all of the above should work out well most nights of the week. We used to live in a world where things were more segregated, but these days most venues have become more LGBT friendly instead of being strictly local gay bars.
The gay bars we just listed are great places for men to meet men, though maybe skip the one we are about to mention next.
Best Lesbian Bars & Clubs in Manchester
Vanilla would be our top choice for the best lesbian bar in Manchester, though you can also have success at many of the mixed clubs as well.
Drag Shows & Trans Bars
While they may not be exactly trans bars in Manchester per se you can find drag shows that may help you locate ts near you at:
Cruz 101
New York New York
Churchills
Centre Stage
Via Manchester
The Brewers
The Goose
House of Drag Queens at The Stranger Bar
Look guys, we cover way too many cities and these scenes change way too fast for us to be perfect. We know the scene here pretty well, but not as well as the local experts.
It would be great if you could let us know about any errors we made or if anything is out of date on this page in the comments section at the end. Also, if you think any venues should be listed as solely places for men to meet men or women to meet women fill us in, thanks a lot.
Many of these gay or lesbian bars and clubs can be found in the LGBT nightlife area of the Gay Village, particularly along Canal Street. You will find all you need and more right there, just as you can find all the info you need on other nearby cities we have covered like:
Weekly, Monthly, & Pride Events
Here are some of the best LGBT events in your area that occur on a weekly or monthly basis:
Glam at Kiki on Monday Nights
Julies Fun House at Kiki on Thursday Nights
Sunday Service at The Eagle Bar
Club Locked at The Eagle Bar on Saturdays
Gay Porn Idol at G-A-Y Manchester on Thursdays
Karaoke Night at Churchills on Thursdays
Cabaret Shows at New York New York on
Dirty Sexy Superdooper House at Vanilla on Sundays for lesbians
Club Anthems! at Vanilla on Fridays for lesbians
If you wanted to read about some local gay and lesbian friendly date spots check out that link. And these are the best pride events plus other LGBT events held throughout the year:
Best LGBT Dating Sites
It used to be that local gay bars were pretty much the only places to try and find other LGBT people for dating or hook ups. Luckily that isn't the case anymore, and now we want to tell you about the new way most people meet each other.
Plus not everyone is fully 'out' at the moment and may not necessarily want to be spotted and get posted about on social media. Whatever your motivations are LGBT dating sites are a great way to meet people without having to get all dressed up to head to a gay or lesbian bar to do so.
Our first sites to tell you about are both run by Adult Friend Finder. You have probably seen the AFF ads online before since they have been helping millions of people like us hook up since the turn of the century.
Their main site for finding gay men near you to hook up with is Men Nation and it is very popular in major cities like this one. The ladies will be better off on Lesbian Personals, and if you like to hook up with all genders then Adult Friend Finder is probably best for you because it covers all the user bases across their numerous sites.
So for m4m hook ups look into Men Nation, and for f4f hook ups try out Lesbian Personals. Some of you may also be interested in the world's top transgender dating site, MyTransgenderDate. Trans dating in Manchester is trending upwards as more ts near you are finally comfortable living the life they want to live.
Alright guys, we have told you all about the LGBT nightlife in your area to the best of our abilities. You know where to go to find mixed, gay, or lesbian bars and clubs in Manchester plus drag shows to party with trans and all sorts of LGBT dating sites. We hope you make the most of the information at hand.