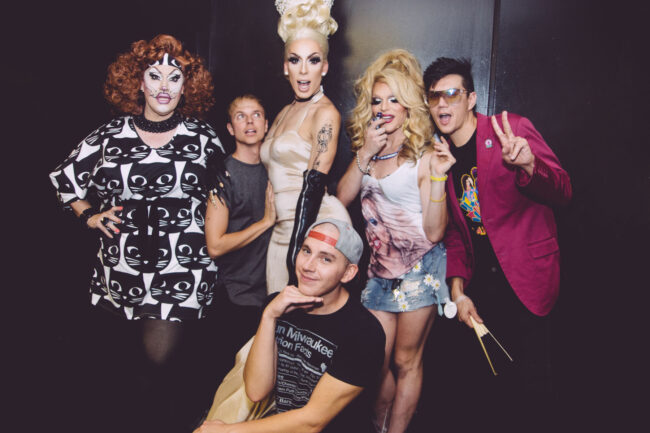 If you are trying to learn more about the best gay and lesbian bars or clubs in London you will certainly do so right here. This local LGBT nightlife guide will also discuss topics like mixed clubs, trans bars, drag shows, the main gayborhood near you in Soho and more!

There are also quite a few annual and more frequent London gay pride events that we will tell you about. And since we are living in the computer and cell phone era we can't forget about the best LGBT dating sites for your area which are more popular than ever before.
We all have our own personal style and preferences so we will list everything we can think of and let you choose your own adventure. Be sure to look through more of our UK LGBT Guides at that link.
Best LGBT Bars & Clubs In London
Let's start this off with a list of the best gay, lesbian, and mixed LGBT bars and nightclubs in London:
Best Gay Bars & Clubs
It wasn't long ago that gay bars in London were pretty much strictly for men looking for men to hook up with. That has changed and now most places in your area are more mixed LGBT style, and as time goes on more are becoming mixed gay and straight.
Best Lesbian Bars & Clubs in London
Along those same lines there are not a lot of lesbian bars in London for women to meet women. Back in the day there were more but now you mostly can go to the venues off the mixed list.
However She Soho is probably just what you are looking for. There are also a couple of monthly local lesbian meet up events that we mention two sections down.
Drag Shows & Trans Bars
We aren't really to the point of having full on trans bars in London, but you can find drag shows that may help you locate ts near you at:
Please use the comments to let us know if anything you notice on this page is no longer relevant or if any new LGBT hot spots have opened up since we posted this. We also want to say that we know how things are in this town pretty well, but we are not local experts by any means.
If you think we should be listing any venues as strictly lesbian or gay bars in London definitely let us know. We have tried our best, but we can't be experts on the whole world.
If you disagree or if we just posted any out of date information then please tell us in the comments below so that our lists can be as correct and up to date as possible. Many of these local gay or lesbian bars and clubs can be found in the gay nightlife areas of Soho, Vauxhall, Dalston, and Bethnal Green.
Go do your partying in those gayborhoods and you will be able to check out the various venues and find out the right spots for your personal tastes. We have also written lengthy LGBT nightlife guides for:
Weekly, Monthly, & Pride Events
Here are some of the best LGBT events that occur on a weekly or monthly basis:
Pride in London held every June is something you won't want to miss but there is a good chance you already knew that.
Best LGBT Dating Sites
We wouldn't be shocked if some of our younger readers have no idea what trying to find LGBT people for dating or hook ups was like pre-internet. Unless you wanted to go out to a gay or lesbian bar in your area you really didn't have many options.
Whether you are out or not is not important to us but it is safe to assume that there are at least a few people reading this who may not want to have their photos taken at a gay bar and posted on social media. Some may like going out to the bars but may also want to know about Adult Friend Finder who has been the biggest hook up site on the planet for almost two decades.
What you may not realize is that it is not their only site, they have quite a few different ones under the AFF network. Their top site for finding gay men near you to hook up with is Men Nation and in huge cities like this it will give you plenty of options.
Lesbian Personals is what women should use when they are ready to find hot lesbian women near you to hook up with. Those who are bi-sexual and like all varieties should just go with Adult Friend Finder.
That is where all of the people on all of the sites across their network can be found. When you are ready to enjoy fast m4m hook ups use Men Nation, and for local f4f hook ups definitely look into Lesbian Personals.
Last but not least we need to tell you about the world's top transgender dating site, MyTransgenderDate. Some may not believe how far the ts movement has come in such a short amount of time and trans dating in London has never been easier.
Thanks for sticking around until the end but at this point we have covered the LGBT nightlife in your area in full. You know all about the best mixed, gay, or lesbian bars and clubs in London plus drag shows to party with trans, the Soho gayborhood and all sorts of LGBT dating sites. Now choose the best option for you and enjoy yourself.