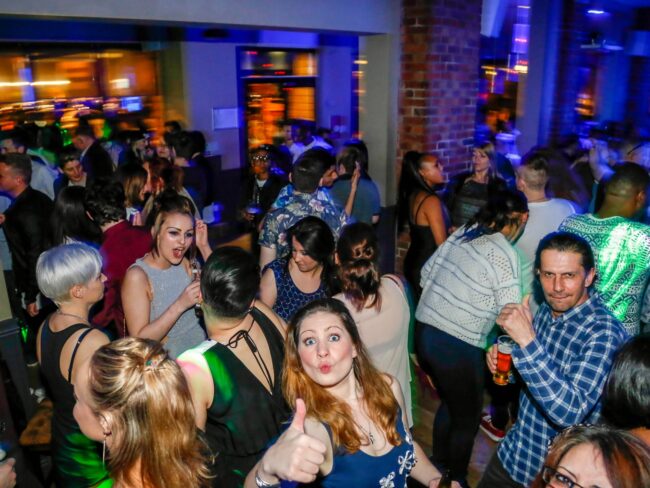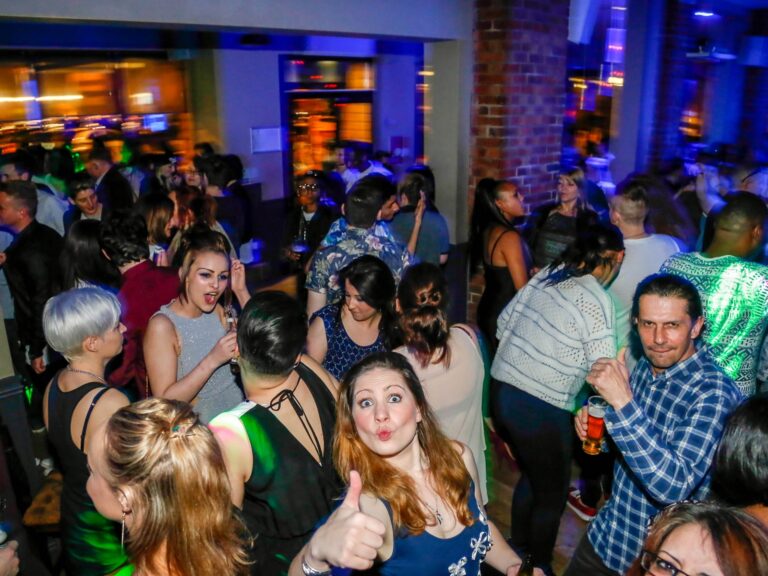 If you are trying to locate the best gay and lesbian bars or clubs in Birmingham, UK then you are on the right web page. This local LGBT nightlife guide will cover numerous subjects like mixed clubs, trans bars, drag shows, the main queer area near you known as the Gay Village and more!

On top of that the best LGBT dating sites will be mentioned, in particular we will discuss a few sites for fast hook ups. Plus we will dive deep into all of the best Birmingham gay pride events and meet ups we know about in this city.
Not all of you will be interested in going out to a lesbian or gay bar or nightclub in your area to try and meet people so we will cover it all and let you proceed however you wish. Some may be interested in reading more of our posts on gay bars in the UK.
Best LGBT Bars & Clubs In Birmingham
Let's start this off with a list of the best gay, lesbian, and mixed LGBT bars in Birmingham:
Best Gay Bars & Clubs
Those that want to find purely gay bars and clubs in Birmingham for men to meet men can have success at the venues off that main list. Things were far less inclusive, fortunately these days most venues have become more LGBT friendly instead of strictly being local gay bars.
Best Lesbian Bars & Clubs in Birmingham
The Fox Bar bills itself as the Midlands premier lesbian bar and we can't disagree. You can also probably have a lot of success at the various mixed LGBT venues in your area we listed above.
Drag Shows & Trans Bars
We aren't really to the point of having full on trans bars in Birmingham but you can find drag shows that may help you locate ts near you at:
Scream Star Superstar at Missing Bar on Tuesdays
Double Cabaret! at Missing Bar on Sundays
Glamorous Show Bar at Glamorous on Thursdays
Drag Shows at The Wellington on Saturdays
Drag Shows at The Fox
Drag Shows at Eden
We tried our best to differentiate between strictly gay bars and mixed LGBT bars, but we won't claim that we did a perfect job of it. If you disagree, if any of the venues we have listed have closed, or if any new LGBT hot spots in your area have opened up please tell us in the comments below so that our lists can be as correct and up to date as possible.
Many of these gay or lesbian bars and clubs can be found in the LGBT nightlife area of the Gay Village. Go do your partying in that gayborhood and you will be able to check out the various venues and find out the right spots for your personal tastes.
You can also read our LGBT guides for:
Pride Events
Here are some of the best LGBT events that occur on a weekly or monthly basis:
Karaoke with Charlotte The Harlotte at The Village Inn on Wednesdays
Dare 2 Bare at Boltz on 1st Sundays
Hitman and Her at Missing Bar on Fridays
Birmingham Pride is held every June, but most of you probably already knew that since it is a can't miss.
Best LGBT Dating Sites
We know that going out to a local LGBT bar or club is not for everyone. We don't all enjoy the party scene, and these days many of us have become more and more introverted which makes it even less appealing.
Plus not everyone is fully 'out' at the moment and may not necessarily want to be spotted and get posted about on social media. Whatever your reasons or motivations are LGBT dating sites have become to modern way to meet people without having to get all dressed up and head to a gay or lesbian bar to do so.
The first sites we want to mention are mainly geared towards casual sex, they aren't exactly dating sites. As the divorce rates keep climbing lots of people are enjoying the single life and aren't looking for a life partner at the moment.
Men Nation is a really good gay dating site for hook ups, and if you want to hook up with gay men in Birmingham you should definitely check it out. Lesbian Personals is a really cool lesbian hook up site that also works great.
They are both run by Adult Friend Finder and probably have far more users on them than you would expect. You have probably seen AFF ads around the web since they have been in business for nearly twenty year.
Men looking for other gay men near you to hook up with can use Men Nation to get the job done quickly. Women who want to meet local lesbian women would be best off using Lesbian Personals.
Any bi-sexuals that are reading this who like all the colors of the rainbow can check out Adult Friend Finder which covers the whole gambit. Serious relationships aren't for everyone and these sites are a great way to hook up for those that don't enjoy partying in the LGBT bars.
We also should tell you about the world's top transgender dating site, MyTransgenderDate. Trans dating in Birmingham is booming these days as it is all around the globe because more ts near you than ever before are finally comfortable living the life they want to live.
Alright then, we have told you all about the LGBT nightlife in your area as best as we can. You learned about mixed, gay, or lesbian bars and clubs in Birmingham, UK plus drag shows to party with trans and all sorts of LGBT dating sites. We hope you make the most of the information at hand.