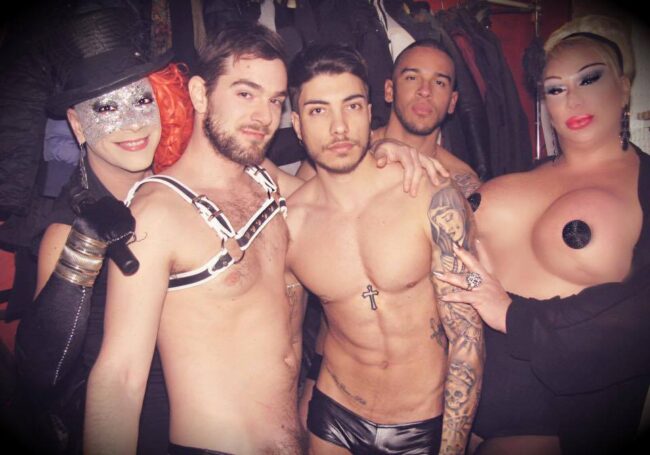 Anyone that wants to learn more about the best gay and lesbian bars or clubs in Milan will find all the info they need right here. This local LGBT nightlife guide will be diving deep into topics like mixed clubs, trans bars, drag shows, the main queer area of town as well as other things.

There are a handful of pride events that definitely need to be mentioned. And we can't forget about the best LGBT dating sites in Italy since many prefer online dating to bars in this modern world we live in.
Not everyone likes to do things the same way and we know gay and lesbian bars in your area are not for everyone. We will just list everything we can think of and then you can proceed in whichever way sounds right for you. We have covered quite a few cities in Italy before if you want to read about some others.
Best LGBT Bars & Clubs In Milan
Let's start this off with a list of the best mixed LGBT bars and nightclubs in Milan:
Best Gay Bars & Clubs
If you are looking for gay bars and clubs in Milan for men to meet men please use the above list. Back in the day things were far less inclusive, fortunately as time has gone on many venues have become more LGBT friendly instead of being strictly gay bars in Italy.
Best Lesbian Bars & Clubs in Milan
Along those same lines lesbian bars in Milan for women to meet women are hard to come by. The mixed list will give you some options, or you may need to visit other popular nightclubs in the city whether they are known to be local LGBT hot spots or not.
With that said you may want to head to Q Club on Saturday nights for their Butterfly lesbian parties.
Drag Shows & Trans Bars
While these may not be trans bars in Milan you can find drag shows that may help you locate ts near you at:
Other gay bars and clubs might have some drag shows or trans events as well. Please use the comments to let us know if anything you notice on this page is no longer relevant or if any new LGBT hot spots have opened up since our last visit here.
We also want to say that we know how things are here pretty good but we are not local experts that is for sure. If you think we should be listing any venues as strictly lesbian or gay bars definitely let us know. We always try to do our best, but we can't be experts on the whole world.
There really is not one main gay area of town here. With no gayborhood in your area and things being more spread out it can be a little difficult, but we have a map at the end of the post to help you get your bearings straight.
Some of you may want to read about other nearby cities like:
Weekly, Monthly, & Pride Events
Here are some of the best LGBT events that occur on a regular basis:
Of course the Milan Pride Parade held every June is something that many will want to attend.
Best LGBT Dating Sites
Look guys, we definitely know that going out to a local LGBT bar or club is not for everyone. We don't all enjoy the party scene, particularly these days when so many of us have become increasingly introverted.
Plus there is a very good chance that some of you reading this are not 'out' at the moment and you may not want your photos to end up on social media. It really doesn't matter what your motivations are, LGBT dating sites are a very quick, easy, and efficient way to meet people near you.
The first sites we will tell you about are part of the huge Adult Friend Finder network. We bet most of you have seen the AFF links online before since they have helped millions of people hook up in their nearly two decades of doing their thing.
When you are ready to find gay men near you to hook up with Men Nation will help more than anything else can and you might be shocked at just how many users it has. The ladies will have more success on Lesbian Personals, we doubt we need to explain to you what that one is all about.
What should you use if you are bi-sexual and enjoy hooking up with all varieties? Just go with Adult Friend Finder where you can find all the users in their huge network. For fast m4m hook ups Men Nation is going to get the job done quicker than anything else.
For f4f hook ups Lesbian Personals is going to be the best site to go with. We also should tell you about the world's top transgender dating site, MyTransgenderDate.
Trans dating in Milan has never been more possible than it is right now because more ts near you in Italy are finally comfortable living the life they want to live. Alright then, we have filled you in on the Milan LGBT nightlife as best as we can.
Mixed, gay, or lesbian bars and clubs in your area plus drag shows to party with trans and all sorts of LGBT dating sites in Italy have been covered in full. We hope you make the most of the information at hand.