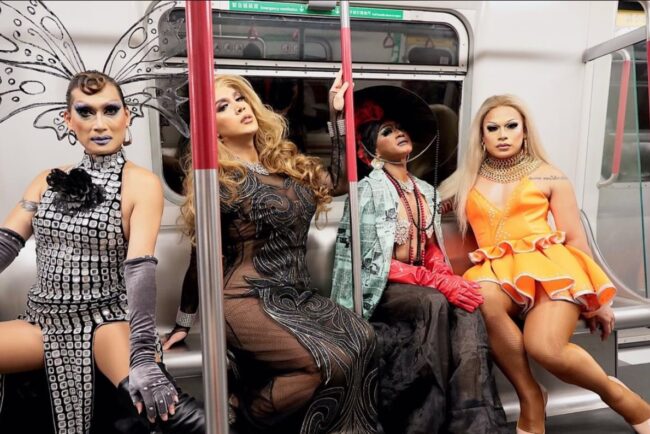 If you are here for some quick info on the best gay and lesbian bars or clubs in Hong Kong we have you fully covered. This local LGBT nightlife guide will also be diving into subjects like mixed clubs, trans bars, drag shows, the main queer area near you and more!

There are a few annual or more frequent Hong Kong gay pride events that we will also tell you about. And we can't forget about the best LGBT dating sites in your area since they are the preferred option of many in this modern tech world.
We all have our own way of doing things so we will list everything we know about so that you can choose your own adventure. You may want to read about more of our queer guides for cities in Asia and around the world at this link.
Best LGBT Bars & Clubs In Hong Kong
Let's start this off with a list of the best gay, lesbian, and mixed LGBT bars and nightclubs in Hong Kong:
Best Gay Bars & Clubs
If you are looking for gay bars and clubs in Hong Kong for men to meet men you should use that list you just read. We used to live in a world where things were far less inclusive, but these days most venues have become more LGBT friendly instead of being strictly local gay bars.
Best Lesbian Bars & Clubs in Hong Kong
L'Paradis or Virus would probably be the top lesbian bars in Hong Kong. However women can meet women in your area at plenty of the spots from the above list as well. Lex Chill Hey is also something you will be interested which we mention in the events section.
Drag Shows & Trans Bars
We aren't really to the point of having full on trans bars in Hong Kong, but you can find drag shows that may help you locate ts near you at:
FLM
Petticoat Lane
Zoo Bar
We know the scene here better than most, but we cover way too many cities all over the globe to have a more intimate knowledge on all of them than the local experts. Our goal is to keep our lists as up to date as possible but we need your help to do so.
It would be great if you could use the comments section to let us know if you notice anything dated. There is not really a main gay area or gayborhood here for us to recommend.
Those who like to travel may be interested in our other posts on:
Weekly, Monthly, & Pride Events
Here are some of the best LGBT events that occur on a weekly or monthly basis:
And these are the best pride and events throughout the year:
Best LGBT Dating Sites
Trying to find other LGBT people near you for dating or hook ups was not very easy for prior generations, especially if you don't like to party. Local gay or lesbian bars were pretty much your only choice, but thankfully that is no longer the case.
We have no idea what your current status is but we are pretty sure that there are some people reading this who may not want to have their photos taken at a gay bar and posted on social media. Adult Friend Finder has been the biggest hook up site on the planet for almost two decades.
They actually have a wide variety of sites in their network which some may not know about and AsianMatchMate is actually the best hook up site in Hong Kong. Their top site for finding gay men near you to hook up with is Men Nation and you might be surprised at how many users it has in major cities like this one.
Lesbian Personals is where to go to find hot lesbian women in your area to hook up with quickly. Those who are bi-sexual and like all varieties should just go with AsianMatchMate.
It combines all of the users on their numerous sites across their network which are not only straight and LGBT but also include numerous types of kinks and fetishes swingers and more. So if you want m4m hook ups use Men Nation, and for f4f hook ups use Lesbian Personals.
The world's top transgender dating site MyTransgenderDate also works great here. Trans dating in Hong Kong is more popular than ever before and will only continue to be so as more ts near you feel confident enough to be the person they really want to be.
At this point we have covered the Hong Kong LGBT nightlife in full. You know all about the best mixed, gay, or lesbian bars and clubs in your area plus drag shows to party with trans and all sorts of LGBT dating sites. Now choose the best option for you and enjoy yourself.