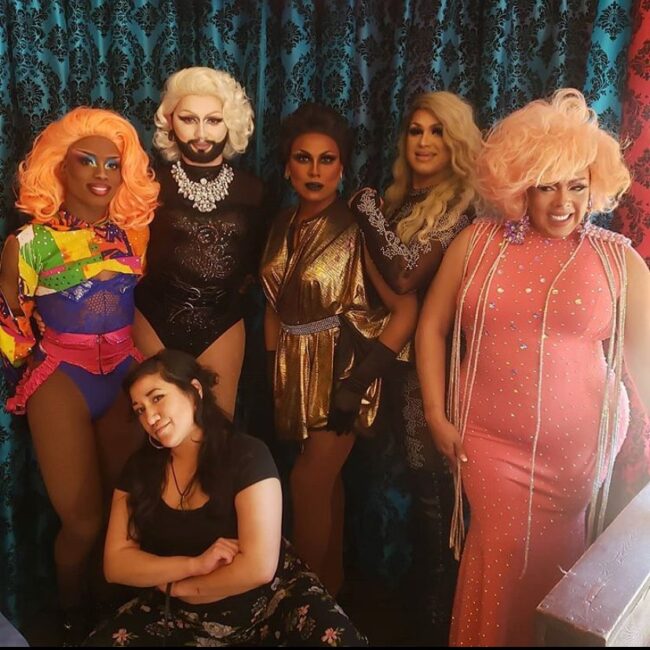 The best Chicago gay and lesbian bars or clubs are going to be covered in full detail in this recently updated local LGBT nightlife guide. We will also be filling you in on topics like mixed clubs, trans bars, drag shows, and the main queer area near you along with plenty more.

There are some annual or more frequent gay pride events in Chicago that deserve a shout out. And we can't forget about the best LGBT dating sites to use in your area since that is the preferred way for many to meet new people these days.
Everyone has their own way of doing things so we will list everything we know about so that you can choose your own adventure. We have also written a post on the top LGBT date night ideas in town, and you can read more of our posts on the top gayborhoods around the Midwest at that link if you are curious.
Best Chicago LGBT Bars & Clubs
The best Chicago gay, lesbian, and mixed LGBT bars and nightclubs currently are:
Best Gay Bars & Clubs Near You
Those of you that are here to learn more about the best Chicago gay bars and clubs for men to meet men will have plenty of success at those venues we just listed. We used to live in a country that wasn't near as inclusive but we have done a pretty good job of changing that this century and currently most venues have become more LGBT friendly instead of strictly being local gay bars.
Best Lesbian Bars & Clubs in Chicago
If you are looking for a full on lesbian bar in your area for women to meet women we suggest you head to Dorothy at 2500 West Chicago Avenue. You may also want to try out Big Chick's but it tends to have a pretty diverse crowd.
The mixed list should have plenty of options for you as well and if there are no cute girls around to hit on head out and find another place to try. That may include going to some venues that are not known to be LGBT hot spots.
Drag Shows & Trans Bars In Your Area
At the moment there are not any strictly trans bars in Chicago, but you can find drag shows that may help you meet ts near you at:
While we do know the scene in this town pretty well we cover way too many cities across the globe to have a more intimate knowledge on all of them than the people who live them 24/7. Our goal is to keep our lists as up to date as possible which is why we update them so often but we and our future readers need your help if we want to excel at it.
It would be super cool if you could use the comments section to help us keep up with the times here. Many of these gay or lesbian bars and clubs near you can be found in the LGBT nightlife areas of Boystown and Andersonville and both of those local gayborhoods should really help you in your search.
You may also want to check out our posts on:
Local Weekly, Monthly & LGBT Pride Events
Here are some of the best LGBT events in your area that occur on a weekly or monthly basis:
And these are the best pride events plus other LGBT events throughout the year:
Hook Up Via LGBT Dating Sites
Over the past few years many of us have become very introverted so partying at a local LGBT bar or club may not be our preferred way to meet new people. Heck, any bar or club may not be a place we want to go and fortunately technology has given us some other solid options.
We also do not know what your current status is and some of you may not be fully 'out' at the moment and may not necessarily want to be spotted and get posted about on social media. Whatever your reasons or motivations are LGBT dating sites are a great way to meet people without having to go to a crowded venue to do so.
The first sites we will discuss are part of the huge Adult Friend Finder network and we bet most of you have seen the AFF links online before. In their over fifteen years in the business they have helped millions of people around the globe hook up.
Men Nation would definitely be their best site to use to find gay men near you to hook up with and it has tons of users in this massive city. The ladies will have more success on Lesbian Personals, you can figure out what it is all about from the name.
Those who are bi-sexual and enjoy hooking up with all varieties can use Adult Friend Finder where you can find all the users in their huge network. There is going to be no faster way to find local m4m hook ups than Men Nation.
For f4f hook ups Lesbian Personals is going to be your top option. Before we end this post we also need to mention the world's top transgender dating site, MyTransgenderDate. It has never been easier to try trans dating in Chicago than it is right now, and hopefully it continues to trend in that direction as there are more ts near you out and about than there have ever been.
Well, we have shared all of the updated info you need on the LGBT nightlife in your area as best as we can for the time being. You know where to go to find the best Chicago gay or lesbian bars and clubs along with mixed venues plus drag shows to party with trans and all sorts of LGBT dating sites. We hope you make the most of the information at hand.