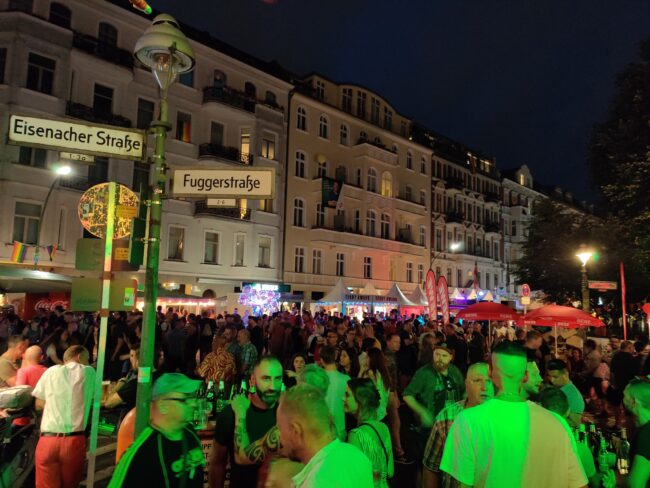 Hey there everyone! If you are looking for info on the best gay and lesbian bars or clubs in Berlin we have you fully covered. This local LGBT nightlife guide will also discuss topics like mixed clubs, trans bars, drag shows, the main queer areas of town and more!

Your best options for LGBT online dating for your area of Germany will obviously have to get a shout out. Plus we will mention all of the best Berlin gay pride events and meet ups we know about.
Some people like to party, others don't really want to hang out in lesbian or gay bars near you all night and because of that we will attempt to give you as many options as possible and then you can choose which way you wish to proceed.
Best LGBT Bars & Clubs In Berlin
Let's start this off with a list of the best gay, lesbian, and mixed LGBT bars and nightclubs in Berlin:
Best Gay Bars & Clubs
If you are looking for gay bars and clubs in Berlin for men to meet men you can go off that main list we just posted. There used to be plenty of gay bars in Germany that were more segregated, but these days men can meet men at just about any local LGBT venue.
Best Lesbian Bars & Clubs in Berlin
Along those same lines we are not aware of any straight up lesbian bars in Berlin for women to meet women. The mixed list should have plenty of options for you and if there are no cute girls around to try to hook up with move on to the next spot.
With that said bars like Begine and Sonntags Club may be where you should start your night. Also the L-Tunes parties we mention in the events section can be a great place for women to meet women in your area.
Drag Shows & Trans Bars
We aren't really to the point of having full on trans bars in Berlin just yet but you can often find drag shows that may help you locate ts near you at:
Look, trying to differentiate between a strictly gay bar or a mixed LGBT bar is not an easy thing to do. To be honest in these modern times we don't really feel like excluding anyone, so we just kind of punted on the whole idea.
If you notice anything out of date information then please tell us in the comments below so that our lists can be as correct and up to date as possible. There really is not one main gayborhood in this city.
There are some areas with a few more gay venues than other like Schöneberg and Kreuzberg, but they are not strictly gay by any means. Some of you may want to read through some of our other posts on:
Weekly, Monthly, & Pride Events
Here are some of the best LGBT events that occur on a weekly or monthly basis:
Solidary on Tap at Möbel Olfe on Mondays
Venue Boys at Silver Future on Mondays
Naked Sex Party at Mutschmann on Thursdays
Weekendstarter at Mutschmann on Fridays
Saturday Night Fever at Blond
GMF at House of Weekend on Sunday
Naked & Underwear Party at Triebwerk
L-Tunes as a legendary lesbian party in alternating locations
And these are the best pride events held plus other LGBT events throughout the year:
Best LGBT Dating Sites
Trying to date or hook up with other LGBT people near you was pretty difficult back in the day, especially for people who didn't like to party. You did not have many practical options outside of visiting a local gay or lesbian bar.
We have no idea what your current status is but it is safe to assume that there are some people reading this who may not want to have their photos taken at a gay bar and posted on social media. Either way, Adult Friend Finder has been the biggest hook up site on the planet for almost two decades.
They don't only have one site, they have quite a few in their network. Men Nation is their top site for finding gay men near you to hook up with in Germany and you might be surprised at how many users it has in major cities like this one.
Lesbian Personals is where to go to find hot lesbian women in Berlin to hook up with. Those who are bi-sexual and like all varieties should just go with Adult Friend Finder where you can find all of the users on their numerous sites across their network.
Whenever you are ready for m4m hook ups use Men Nation, and for f4f hook ups use Lesbian Personals. Both work great and are the fastest and easiest way to get the ball rolling.
Before we finish we also want to tell you about the world's top transgender dating site, MyTransgenderDate. There has never been a time where trans dating in Berlin was easier, and as more ts near you in Germany continue to be the person they want to be things should only get better.
At this point we have covered the Berlin LGBT nightlife in full. You know all about the best mixed, gay, or lesbian bars and clubs in your area plus drag shows to party with trans and all sorts of LGBT dating sites in Germany. Now choose the best option for you and enjoy yourself.