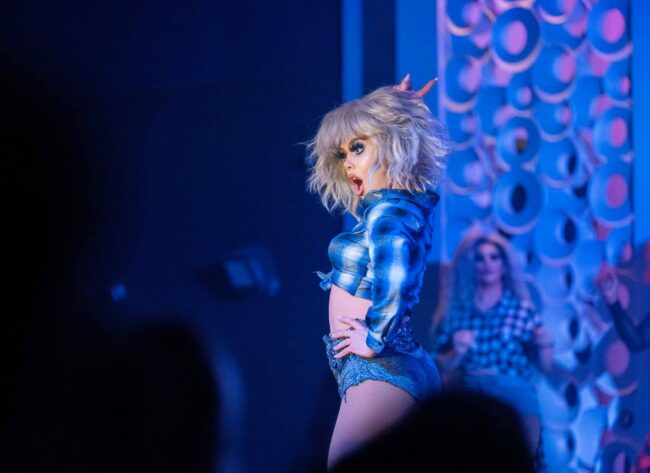 Hello everyone and welcome to our site. If you are looking for info on the best gay and lesbian bars or clubs in Louisville we have you fully covered. This local LGBT nightlife guide will also discuss topics like mixed clubs, trans bars, drag shows, the main queer area near you The Highlands and more!

We will also be mentioning the best options for LGBT online dating, particularly for those who are more interested in hooking up than getting too deep into a serious relationship at the moment. All of the best Louisville LGBT pride events and meet ups we know about will also get a brief shout out.
We don't all like to do things the same way which is why we are trying to cover all the options so that you can go with whichever sounds best to you. The lesbian and gay bars in your area are not the only way to meet new people these days, we all need to be thankful for that.
Best LGBT Bars & Clubs In Louisville
The best Louisville lesbian, gay, or mixed LGBT bars and nightclubs would be:
Best Gay Bars & Clubs
If you are looking for gay bars and clubs in Louisville for men to hook up with men all of the above should work out well. We used to live in a world where things were more segregated, but these days most venues have become more LGBT friendly instead of being strictly local gay bars.
Best Lesbian Bars & Clubs in Louisville
Purrswaytions was the top lesbian bar in Louisville for women to meet women for a long time, though it recently closed. Most of the venues from the mixed list should also work out for you.
Drag Shows & Trans Bars
We aren't really to the point of having full on trans bars in Louisville, but you can find drag shows that may help you locate ts near you at:
Look guys, we cover way too many cities and these scenes change way too fast for us to be perfect. We know the scene here pretty well, but not as well as someone who parties in it every week.
It would be great if you could let us know about any errors we made or if anything is out of date on this page in the comments section at the end. Also, if you think any venues should be listed as solely places for men to meet men or women to meet women in your area fill us in, thanks a lot.
Many of these gay or lesbian bars and clubs can be found in the LGBT nightlife area of The Highlands. If you are trying to hook up with other people with similar interests that would be a good place for you to go out.
To learn more about the gay scene in other nearby cities check out our posts on:
Weekly, Monthly, & Pride Events
You can always have a great time at Karaoke with Lisa! at Nowhere Bar on Monday, Tuesday, and Friday nights. And these are the best pride events plus other LGBT events in your area throughout the year like:
Best LGBT Dating Sites
It isn't like everyone enjoys partying at local LGBT bars. Sure, there will be some drunk people around you might be able to hook up with, but those drunks can also be a pain in the ass to deal with.
It is also safe to say that we aren't all in the same position and there are probably people reading this who may not want to be seen at or have their photos taken at a gay bar. Plenty of us don't mind, but we aren't going to expect everyone to feel the same way as we do.
We have a few options to tell you about, and the first ones are mostly geared towards casual sex, not full on serious dating. Men Nation is a really good gay dating site for hook ups, and if you want to hook up with gay guys in Louisville you should give it a shot.
Lesbian Personals is obviously for the ladies, and they are both run by Adult Friend Finder. We bet you have seen their ads online before since they have been helping people of all kinds hook up for almost as long as the internet has been a thing.
Their top site for finding gay men near you to hook up with is Men Nation and it is very popular in major cities like this one. Women who want to meet women can use Lesbian Personals, and if you don't have a preferred gender to hook up with then Adult Friend Finder is probably best for you because it covers all the user bases on their numerous sites across their network.
We also want to mention the world's top transgender dating site, MyTransgenderDate. Trans dating in Louisville is more popular than ever and that probably won't change any time soon since more ts near you feel confident enough to be the person they really want to be.
At this point we have covered the LGBT nightlife in your area in full. You know all about the best mixed, gay, or lesbian bars and clubs in Louisville plus drag shows to party with trans and all sorts of LGBT dating sites. Now choose the best option for you and enjoy yourself.