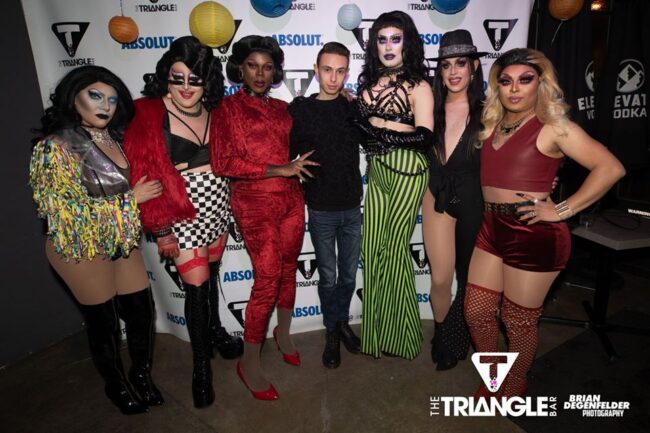 Hey there, if you are looking for info on the best gay and lesbian bars or clubs in Denver you are in luck. Well, it might not be luck, you might just know how to use Google. Either way this LGBT nightlife guide will also discuss topics like mixed clubs, trans bars, drag shows, the main queer area near you and more!

We will also tell you all about the top LGBT online dating sites, in particular a few that are more about fast hook ups then finding a life partner. Plus we will mention all of the best Denver gay pride events and meet ups we know about.
We don't all like to do things the same way which is why we are trying to cover all the options so that you can go with whichever sounds best to you. Lesbian and gay bars in your area are not the only way to meet new people these days and we all should be thankful for that.
By the way you can read more of our local LGBT nightlife guides for the Midwest at that link if you are interested.
Best LGBT Bars & Clubs In Denver
Let's start this off with a list of the best gay, lesbian, and mixed LGBT bars and nightclubs in Denver:
Best Gay Bars & Clubs
Back in the day many gay bars in Denver were only full of men looking for men to hook up with in your area. That has kind of changed and currently most venues are more mixed LGBT style, and some are mixed gay and straight. There will be plenty of men looking to hook up at the bars and clubs we just listed.
Best Lesbian Bars & Clubs in Denver
Along those same lines Blush and Blu is not a strictly local lesbian bar, but it would probably be our top pick for where Denver women can meet women for dating or hook ups.
Drag Shows & Trans Bars
We aren't really to the point of having full on trans bars in Denver, but you can find drag shows that may help you locate ts near you at:
Drag Shows at X Bar on Fridays & Saturdays
Fresh Fish Friday Drag Show at Charlie's Nightclub
The Circle Jerks at Charlie's Nightclub on Sundays
El Potrero on Fridays and Sundays
Trade on Sundays
Mile High Hamburger Mary's
There are also some drag brunches at X Bar that could work out well for you. Look guys, we write about way too many cities and these scenes change way too fast for us to be perfect. We know the scene here pretty well, but not as well as the local experts.
It would be really helpful if you could let us know about any errors you noticed or if anything is out of date on this page in the comments section at the end. Also, if you think any venues should be listed as solely places for men to meet men or women to meet women fill us in.
If you are interested in learning more about the LGBT scene in other cities we have written about:
Weekly, Monthly, & Pride Events
Here are some of the best LGBT events that occur on a weekly or monthly basis:
X-Posure at X Bar on Sundays
Lip Sync at X Bar on Thursdays
Glow Friday's at Charlie's Nightclub
Charlie's Undie at Charlie's Nightclub on Mondays
Friday Nights Are Hot at Triangle
Basic B*tch Brunch at Triangle on Sundays
Techno Taco Tuesday at Tracks
First Friday at Tracks
And these are the best pride events plus other LGBT events held in your area throughout the year:
Best LGBT Dating Sites
It wasn't long ago when local gay bars were pretty much the only places to try and find other LGBT people for dating or hook ups. Fortunately that isn't the case anymore, and now we want to tell you about some of our favorite options.
Our first sites to mention are both run by Adult Friend Finder. You have probably noticed the AFF ads online before since they have been helping millions of people hook up since the turn of the century.
Their top site for finding gay men near you to hook up with is Men Nation and it is very popular in major cities like this one. The ladies will be better off on Lesbian Personals when they want to get laid.
Those that don't have a preferred gender to hook up with should look into Adult Friend Finder because it covers all the user bases on their numerous sites. Men Nation will work great for fast m4m hook ups, and for f4f hook ups try out Lesbian Personals.
We also want to mention  Trans dating in Denver is more popular than ever before and will only continue to grow as more ts feel confident enough to be the person they really want to be. Right now the world's top transgender dating site is MyTransgenderDate and it will work really well in a big city like this.
At this point we have covered the LGBT nightlife in your area in full. You know all about the best mixed, gay, or lesbian bars and clubs in Denver plus drag shows to party with trans and all sorts of LGBT dating sites. Now choose the best option for you and have a great time.